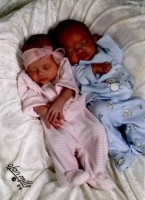 Ming Norris
"I was first seen by Dr. Karon in the fall of 2006. Previously, I had been told by two separate doctors that I would never have children. One of those doctors was so insensitive to my condition that I left his office in tears. The other was kind, but in my opinion was not aggressive enough in his treatment. Having been let down time and time again, I must admit that I was hesitant and skeptical the day of my first appointment with Dr. Karon.
I learned of Dr. Karon through a stranger's success story. My husband and I had decided that this was it. If Dr. Karon couldn't help, No More Doctors. For those of you who have struggled with infertility, you can relate to the frustration and hopelessness that we felt.
I took copies of all my medical records with me. During my visit, Dr. Karon took her time and reviewed them. Automatically, she mentioned a couple of tests that needed to be run that neither of my previous doctors had ordered. Dr. Karon was familiar with premature ovarian failure. She said she had two patients with the same condition who actually got pregnant under her care. That was encouraging.
Over a period of months and lots of hormone replacement, I got pregnant… with twins! Dr. Karon inspired me to believe that everything would be okay and it would all work out. She is so passionate about her job. I have never met a physician as dedicated as Dr. Karon is. I owe her so much. She helped to give me the family I always wanted."